A creamy iced coffee, which you can drink every day, so delicious. A cold summer drink, refreshing and easy to prepare.
Ice coffee, that's nice! When everyone looks forward to a delicious ice cream, I'd rather drink an ice coffee. And when it's very hot, don't give me an ordinary coffee, I want an ice coffee. For a great ice coffee is refreshing, delicious and creamy. And different every time. So when I recieved the foodybox and there was coffee from Simon Levelt inside I knew what I was going to make.
You can serve it as a dessert, but you can also create a leaner version of this delicious drink which resembles more of a cold Machiatto. And you can give it extra flavor by adding some amaretto and then add some slivered almonds to sprinkle on top, but it isn't necessary.
The only thing you need for an iced coffee is enough ice (cubes or any other kind) and coffee. And because you drink the coffee cold, use a strong coffee. Coffee as it gets colder, it tastes less strong. In order to get the same taste, you use a more intense flavor. An espresso coffee, for example.
And while I'm typing, meanwhile I'm enjoying the last of this iced coffee. Definitely recommended and for those who like prefer a slimmer version, you can try the Mexican Iced coffee. So come back soon so you won't miss anything!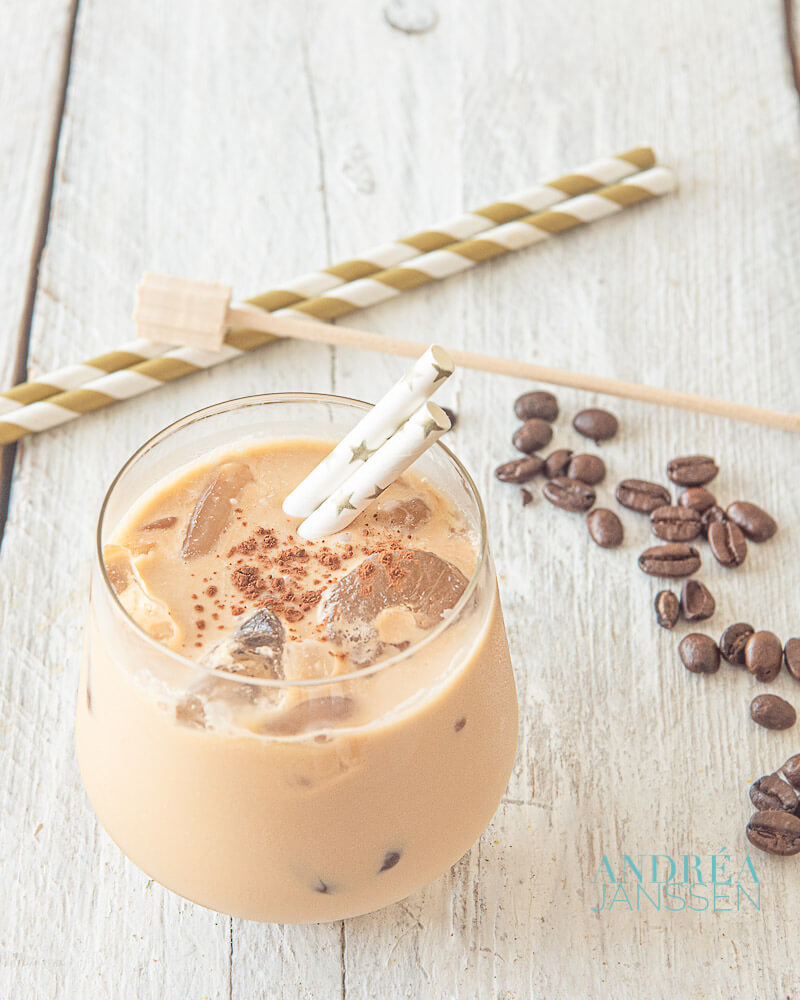 Did you make this recipe? Tag #byandreajanssen via Instagram. I enjoy seeing what your creation looks like. Video recipes can be found on my YouTube channel. And don't forget to save the recipes on Pinterest so you can easily find them next time!
SUBSCRIBE for more videos of By Andrea Janssen:
https://www.youtube.com/c/ByAndréaJanssen
Print
Save
Saved!
Facebook
Pinterest
A creamy iced coffee, which you can drink every day, so delicious. A cold summer drink, refreshing and easy to prepare.
Ingredients
750

ml

coffee

strong

4

tablespoons

icing sugar

200

ml

cream

ice cubes

or crushed ice

1

tablespoon

amaretto

optional: you can also add shivered almonds as garnish
Ingredients you need per step are listed below the step in Italic
Instructions
Make the coffee and dissolve the powdered sugar herein.

Allow to cool in the refrigerator until it's very cold.

Mix in a measuring cup (which make it easier at the end to fill the glasses) the coffee with cream.

Optional add the amaretto to the coffee.

Divide the ice cubes on the glasses or cups and pour the cold ice coffee on top.

Sprinkle with cocoa to garnish (or slivered almonds) and put a straw in it.
Indication Nutritional Value (Per Person / Portion):
Calories:
217
kcal
Carbohydrates:
11
g
Protein:
1
g
Fat:
19
g
Saturated Fat:
12
g
Cholesterol:
69
mg
Sodium:
23
mg
Sugar:
9
g
Vitamin A:
735
IU
Vitamin C:
1
mg
Share by Email