This recipe for a Kapsalon with a healthy twist is a nice skinny and healthy variant of the well-known recipe. But with the same great taste!
In Dutch, the word Kapsalon meant Hair Salon for a long while. But nowadays it might just as well mean a delicious fast food snack. Created around 2003 in Schiedam, the Netherlands, this dish has taken its own place in fast-food land. And I understand why because it's really delicious.
The Kapsalon
A kapsalon like its best known can be bought at the Shawarma shop or snack bars and often consists of Shawarma meat, french fries, Gouda cheese, and on top iceberg lettuce. And of course a generous portion of garlic sauce and sambal (a delicious hot sauce). Delicious but also rich in calories.
A small portion contains around 1200 calories and the normal version is even higher. Now it is of course not bad at all to go crazy once in a while, but what if it is one of your favorite fast food recipes and you prefer to eat it every week?
The Friday fast food twist
And I find that a challenge for the Friday fast food twist. How do you make this recipe a little healthier, with fewer calories but without losing a lot of flavors? So you can serve your family with peace of mind, where everyone says: I eat fast food (and you know that it is not as unhealthy as it sounds).
The basis of the Kapsalon is meat with potatoes and a cheese topping and this, of course, must remain. But instead of taking shoarma I used ground beef and mixed them with vegetables. By flavoring this mixture with shawarma herbs, this remains very tasty.
I also replaced the fries with crispy baked potatoes. Still the bite and the taste, but also slightly better for the Calories. And of course, the cheese and iceberg lettuce stay. This recipe ultimately contains around 510 calories and so you can best call it the slim variant.
After serving, the conclusion here in this family was that it's a winner in our house (but if they were going to eat fast food outdoors, it could just be that they continue to get the real Kapsalon). One zero for the parents!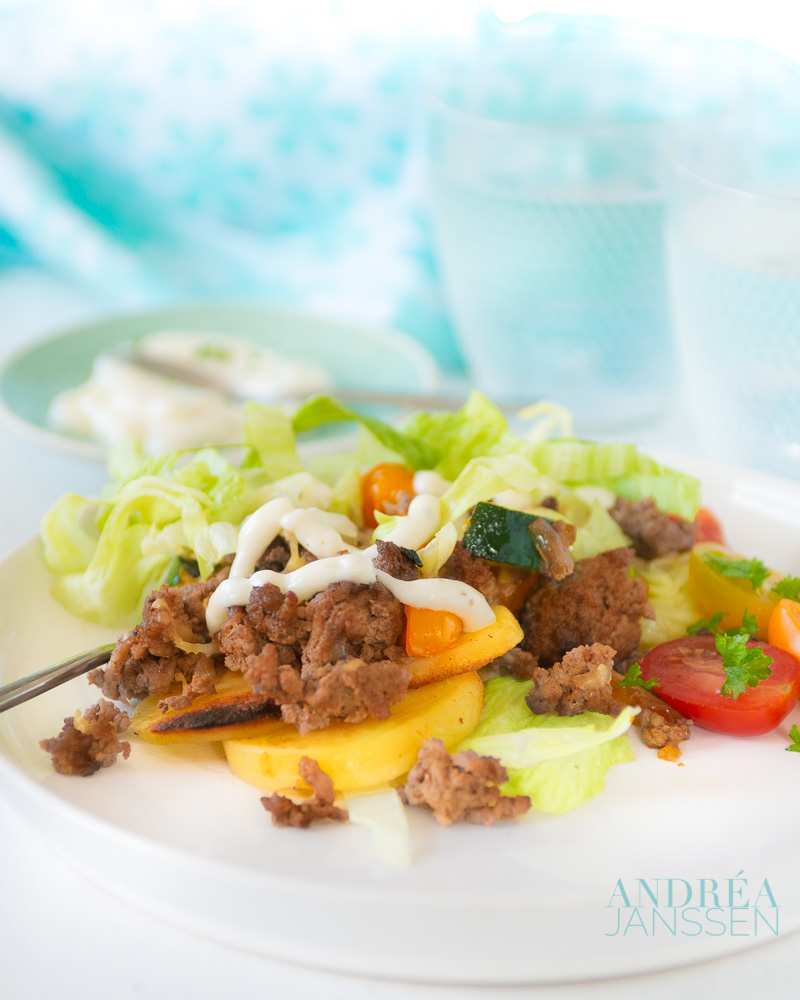 Did you make this recipe? Tag #byandreajanssen via Instagram. I enjoy seeing what your creation looks like. Video recipes can be found on my YouTube channel. And don't forget to save the recipes on Pinterest so you can easily find them next time!
Watch How to Make It
Dutch Kapsalon (with a healthy twist)
SUBSCRIBE for more videos of By Andrea Janssen:
https://www.youtube.com/c/ByAndréaJanssen
Kapsalon with a healthy twist
Print
Save
Saved!
Facebook
Pinterest
This recipe for a Kapsalon with a healthy twist is a nice skinny and healthy variant of the well-known recipe. But with the same great taste!
Ingredients
1

tablespoon

butter

900

grams

potato

sliced

1

zucchini

in cubes

150

grams

cherry tomatoes

quartered

1

shallot

chopped

1

tablespoon

oil

500

grams

ground beef

1

tablespoon

shawarma spices

or more to taste

50

grams

Gouda cheese

grated

iceberg lettuce

garlic sauce
Ingredients you need per step are listed below the step in Italic
Instructions
Preheat the oven to 390 °F (200 °C).

Melt the butter in a frying pan and fry the potato slices until they are tender and crispy.

Heat the oil in the frying pan and add the shallot, fry for about 2 minutes, and then add the zucchini.

Bake again for 2 minutes before adding the cherry tomatoes. Let it simmer for 3 minutes.

Remove the vegetables from the pan with a skimmer.

Mix the shoarma herbs into the minced beef.

Fry the minced meat in the oil of the vegetables.

Take a large baking dish and divide the potato slices over the bottom.

Spoon over the vegetable mixture and then the minced meat.

Finish by sprinkling grated cheese over the oven dish.

Place the casserole in the preheated oven and let it bake for 15 minutes until everything is done (and the cheese golden).

Remove the baking dish from the oven and spread the iceberg lettuce over the oven dish.
Indication Nutritional Value (Per Person / Portion):
Calories:
579
kcal
Carbohydrates:
33
g
Protein:
32
g
Fat:
36
g
Saturated Fat:
14
g
Cholesterol:
109
mg
Sodium:
218
mg
Fiber:
7
g
Sugar:
3
g
Vitamin A:
495
IU
Vitamin C:
43.8
mg
Iron:
10.6
mg
Share by Email