Chicken and spinach risotto recipe: a creamy risotto, with delicious fried chicken, and fresh spinach. All flavored in a delicious broth, cream, and cheese. An easy recipe without much stirring! This way you can make everything quite delicious, right?
Now that we have arrived in spring, we can enjoy delicious fresh spinach again. Full of vitamins and minerals such as iron. And because we are still early in the season and it hasn't been too hot, the leaves are beautifully young and fresh.
Now you can make delicious salads with it or make a nice stir-fry dish, but you can also use it in Italian risotto. And this recipe for risotto is even better because you don't need to stir continuously. Why? I tell you later!
And if you like risotto, make sure to also check out this delicious risotto with shrimp and arugula.
But what is risotto?
I think it's super fun to know what I serve on my plate. For example take risotto which, although it is really rice, comes from Italy. From the north of Italy to specify.
Each risotto recipe has five steps. It always starts with frying onion and, if you are going to use it, garlic in butter or oil. Then the rice is added and fried. The rice then becomes glassy instead of white.
In the third step, you add moisture. Broth, wine, or other condiments. The next step is to add the seasonings, like vegetables, meat, or fish.
Finally, you let the risotto rest for 1 minute, after which you add butter, cream, and/or cheese.
No continuously stirring
Although commonly believed continuously stirring is the way to prepare a good risotto, that really isn't necessary at all. If you take a large pot or frying pan, you don't have to stir that often.
In this post of serious eat, they've been experimenting with what is the best way to prepare risotto. They think (and I agree) that continuously stirring is inefficient.
And they found out that stirring is needed when using an original risotto pan because it's a narrow pot. The rice and liquids stack and you'll need to stir to keep it in contact.
But when you use a wider pan, that isn't a problem anymore and you don't have to stir all the time! I've tried it myself several times and it works so well. So my advice takes a skillet or a width pan and you've got a creamy and delicious risotto with less work!
What do you need to prepare risotto with spinach and chicken?
These are the ingredients necessary for making chicken and spinach risotto:
Do you use fresh or frozen spinach?
Use fresh spinach leaves if you can get your hand on them. If it's not in season you can use frozen spinach. Let it thaw before adding it.
Advised wines to use to prepare this creamy risotto
Use a dry white wine like a Chardonnay, Sauvignon blanc, Pinot Grigio or Pinot Noir.
How to prepare spinach and chicken risotto
This is an easy recipe to prepare this creamy risotto with stock, wine, spinach, chicken, and cheese. You start by flavoring the risotto rice and cooking it on medium heat until done. Then. you add spinach and chicken and heat everything. Make it creamy by adding Parmesan cheese and cream and top with some pine nuts.
Do you need to add wine to risotto?
In almost all (traditional) risotto recipes wine is added. So it's a key ingredient and adds flavor. The alcohol in the wine will vaporize when cooking. If you really want to discard it, use some extra stock.
Can you use water instead of stock in your risotto?
Yes, you can. But it's not recommended. The stock will give a lot of flavor to this dish, which water doesn't. So it won't be as delicious as when using stock.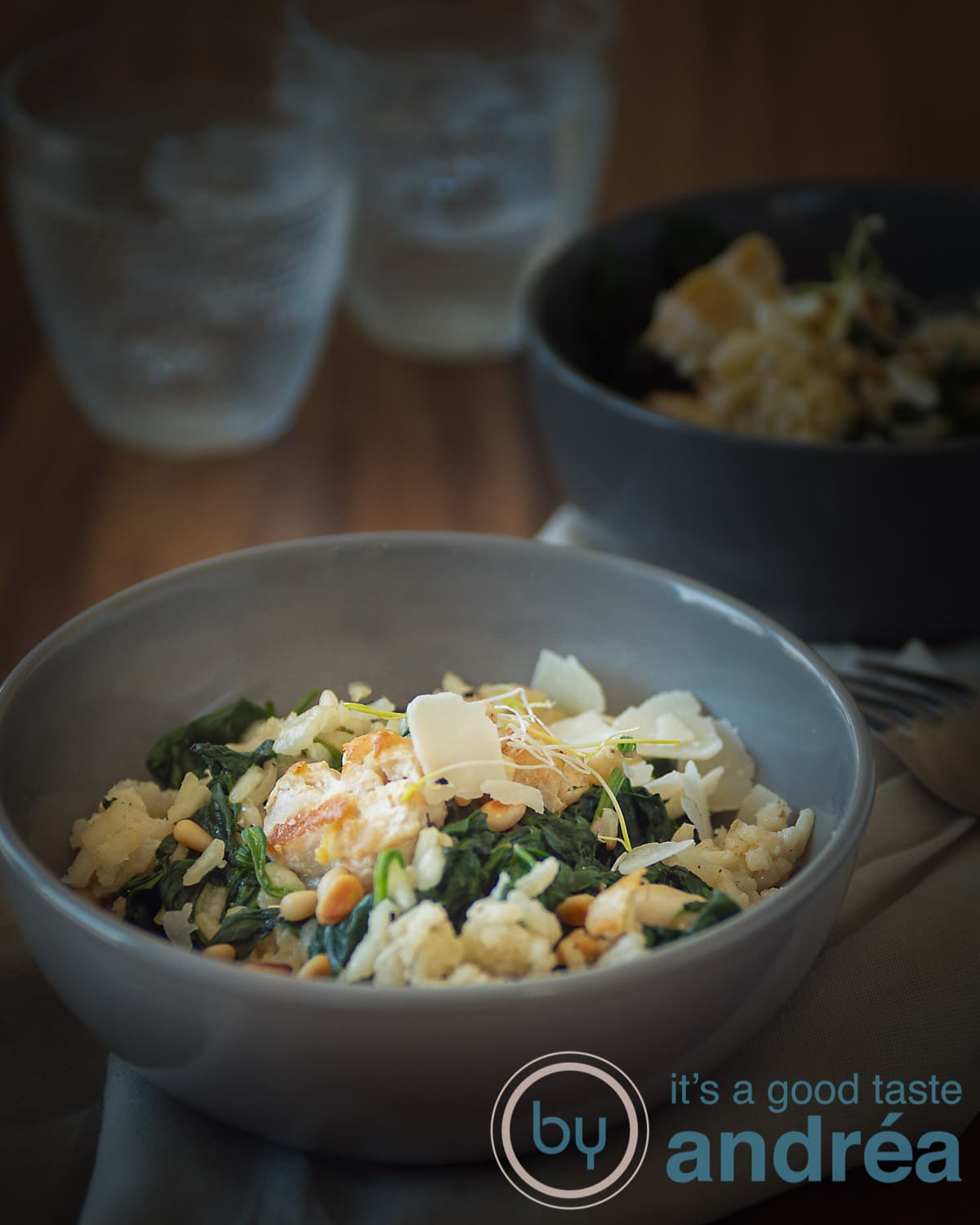 Did you make this recipe? Tag #byandreajanssen via Instagram. I enjoy seeing what your creation looks like. Video recipes can be found on my YouTube channel. And don't forget to save the recipes on Pinterest so you can easily find them next time!
SUBSCRIBE for more videos of By Andrea Janssen:
https://www.youtube.com/c/ByAndréaJanssen
Chicken and spinach risotto recipe
Print
Save
Saved!
Facebook
Pinterest
Creamy risotto, delicious fried chicken and fresh spinach. All flavored in a delicious broth, cream and cheese. This way you can make everything quite delicious, right?
Ingredients
10

oz.

fresh spinach

washed

3

tablespoons

oil

1

pound

chicken breasts

diced ½ x ½ inch cubes or 1 x 1 cm

1

onion

chopped

1

clove

garlic

squeezed

2

cups

risotto rice

like Arborio rice

½

cup

white wine

Chardonnay, Sauvignon blanc, Pinot Grigio or Pinot Noir.

3

cups

chicken broth

warm

3

oz.

Parmesan cheese

grated

¼

cups

cream

1

oz.

pine nuts

roasted

½

oz.

basil

salt and pepper

to taste
Ingredients you need per step are listed below the step in Italic
Instructions
Fry the spinach with adjoining water in a frying pan until it shrinks.

Remove the spinach from the pan and drain.

Heat 1 tablespoon of oil in the pan and fry the chicken cubes until they are brown and done. Remove them from the pan and set them aside.

3 tablespoons oil,

1 pound chicken breasts

Take a large pan and add two tablespoons of oil and fry the onion for about three minutes until they are glassy.

Then add the garlic and stir fry for 30 seconds.

Pour in the risotto and fry for 3 minutes until the white grain becomes a bit translucent.

Deglaze with the white wine and scrape the bottom of the pan (to get all brown bits).

Then add 2 cups (500 ml) of broth. Stir briefly. And make the broth come to a boil. Turn the heat to medium. Leave it, uncovered and stir only one or two times in between, until all the liquids have been absorbed.

Add another ½ cup (120 ml) to the risotto. Check the firmness of your rice. If you think it's done, stop adding stock. Otherwise, add another half cup (120 ml) of stock and let it absorb. 

Mix the spinach and the chicken through the risotto and heat everything well.

Add the cream and the Parmesan cheese and stir.

¼ cups cream,

3 oz. Parmesan cheese

Taste and season with salt, pepper and basil.

½ oz. basil,

salt and pepper

Top everything with pine nuts, stir again and serve immediately.
Notes
1. - Risotto rice
There are different sorts of rice you can use for risotto, but most commonly outside Italy is Arborio rice. Make sure though that you use a variety that's suitable for risotto, otherwise you'll get dry rice instead of a creamy sort. By baking the rice before cooking it, it will turn from white to a bit glazy. That way each grain is coated with a film of fat.
2. - Chicken broth
Gives flavor to your risotto (and you want a tasty risotto). Although in many recipes it's said that the broth needs to be hot, in practice it's not necessary. You can add it cold, warm, or hot. It doesn't have any influence on flavor. Only on cooking time (which will be longer, because the stock will need time to heat up).
3. - Substitutions
Spinach - You can use finely cut kale, escarole, or arugula instead of spinach.
Cream - You could also use butter instead of cream (and it will even become creamier that way). Use 3 tablespoons of butter, unsalted, instead.
Chicken - If you opt for a vegetarian solution substitute the chicken with 13 oz. (400 grams) sliced and fried mushroom.
Parmesan - Instead of parmesan cheese you could also use Pecorino Romano cheese. If you want to add a more cheesy flavor use Gruyère or Cheddar.
4. - Tips almost no stirring!
Use a pan that's wide enough to spread the risotto in a thin layer. That way you only have to stir one or two times when stock is added. When using a narrow pan, make sure to stir continuously so the stock comes in contact with the risotto rice.
5. - Storage
You can't store/reheat risotto leftovers. So eat it right away.
6. - Nutrition Values
Assuming 4 persons. When eating a smaller portion with 5 persons, the values will reduce.
Indication Nutritional Value (Per Person / Portion):
Calories:
825
kcal
Carbohydrates:
88
g
Protein:
43
g
Fat:
31
g
Saturated Fat:
9
g
Polyunsaturated Fat:
6
g
Monounsaturated Fat:
12
g
Trans Fat:
1
g
Cholesterol:
107
mg
Sodium:
1183
mg
Fiber:
5
g
Sugar:
2
g
Vitamin A:
7258
IU
Vitamin C:
37
mg
Iron:
8
mg
Share by Email