Do you also enjoy high tea? With these summer high tea recipes, all with strawberries, you can't go wrong. And a timetable is included so you can relax and enjoy your party. Have fun!
During the last blogs, you could enjoy delicious high tea recipes with strawberries. And as usual (like with the Italian buffet and Children's Birthday party) again a wrap-up of these recipes and a time table. So you can enjoy your high tea without stress and Entertain in style!
Jump to: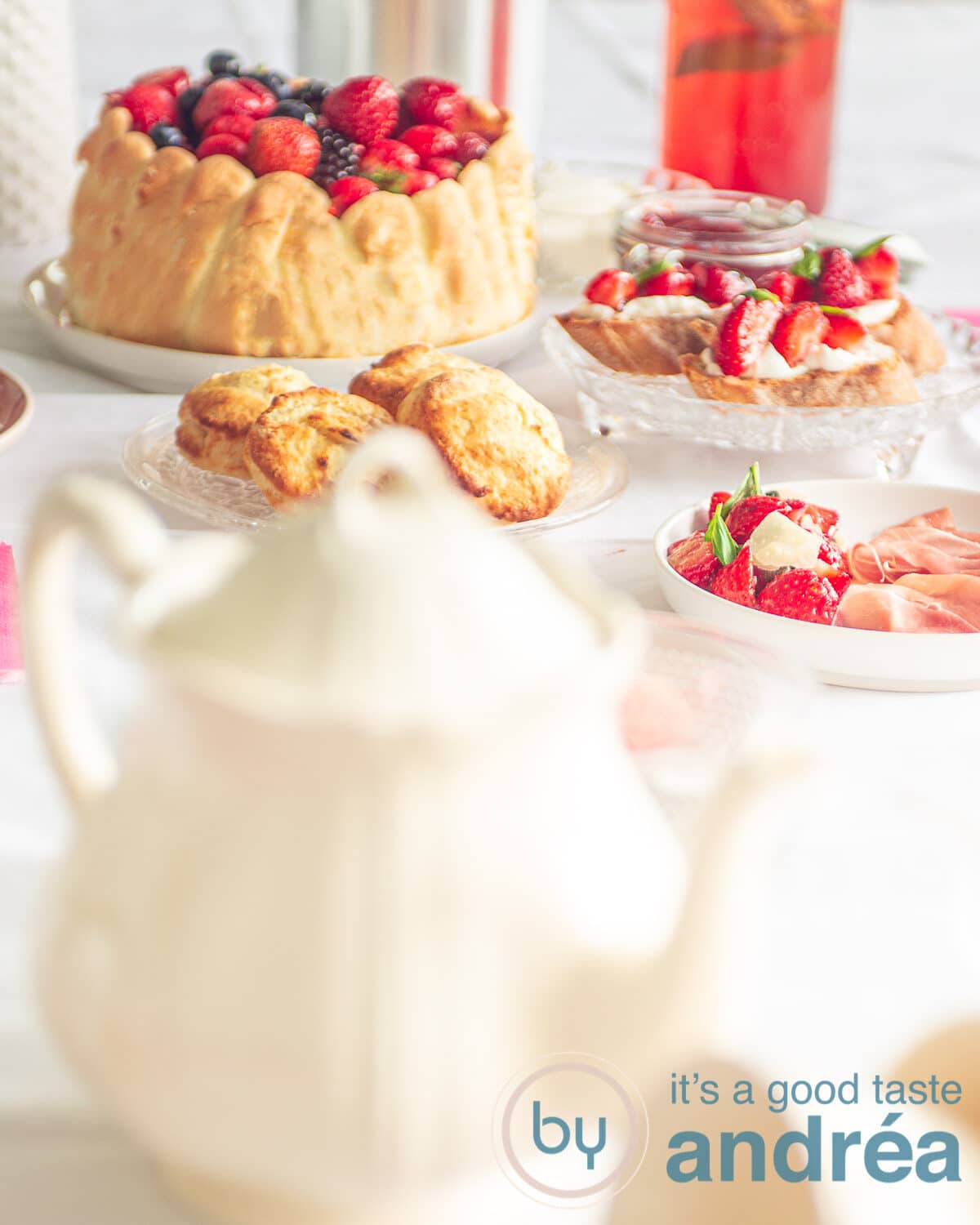 Next week a new wrap-up: homemade jams and jellies, because harvest season is in full bloom now. And these recipes are going to put the summer in your jars!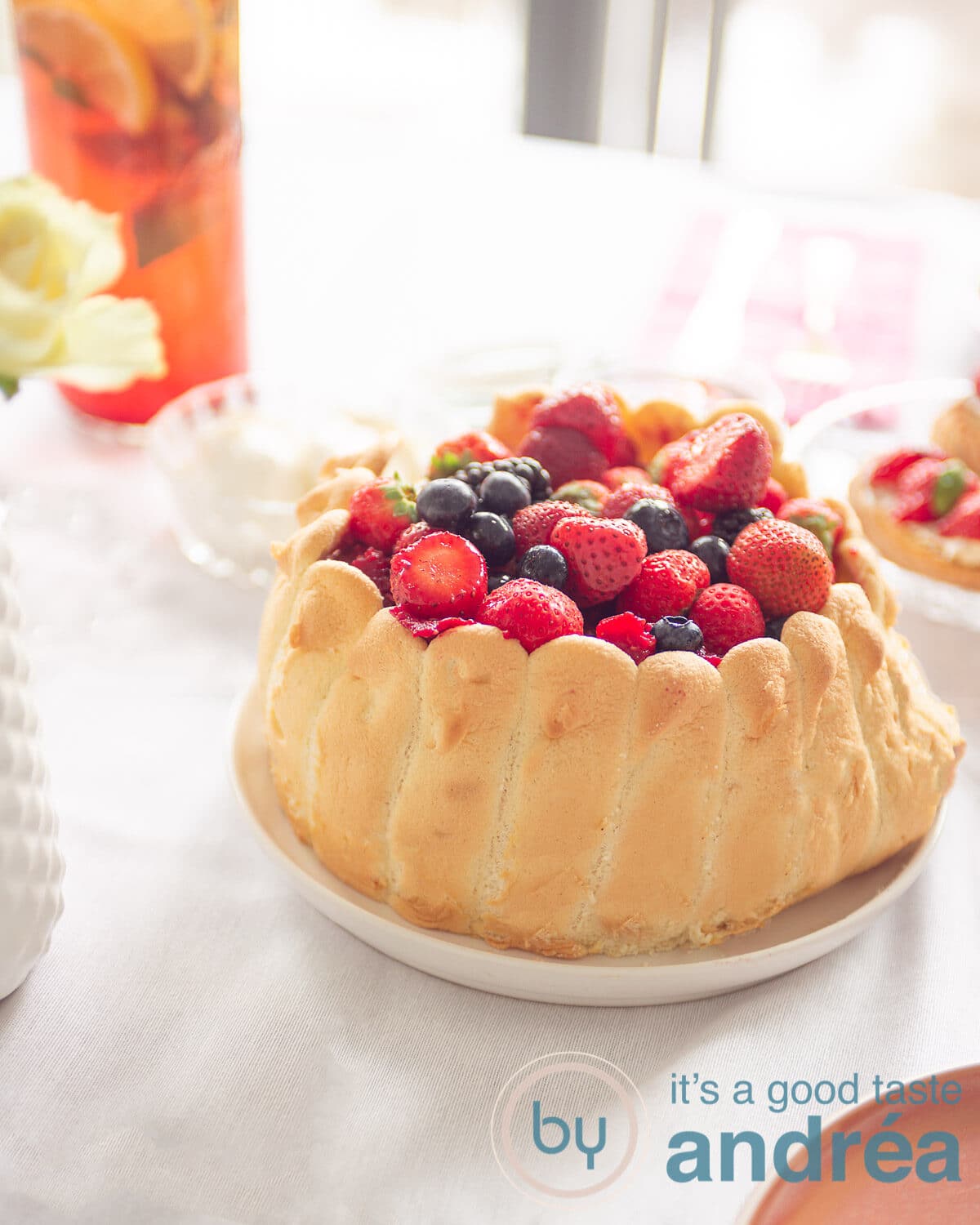 Did you make this recipe? Tag #byandreajanssen via Instagram. I enjoy seeing what your creation looks like. Video recipes can be found on my YouTube channel. And don't forget to save the recipes on Pinterest so you can easily find them next time!
6 recipes for a high tea with strawberries
Other recipe ideas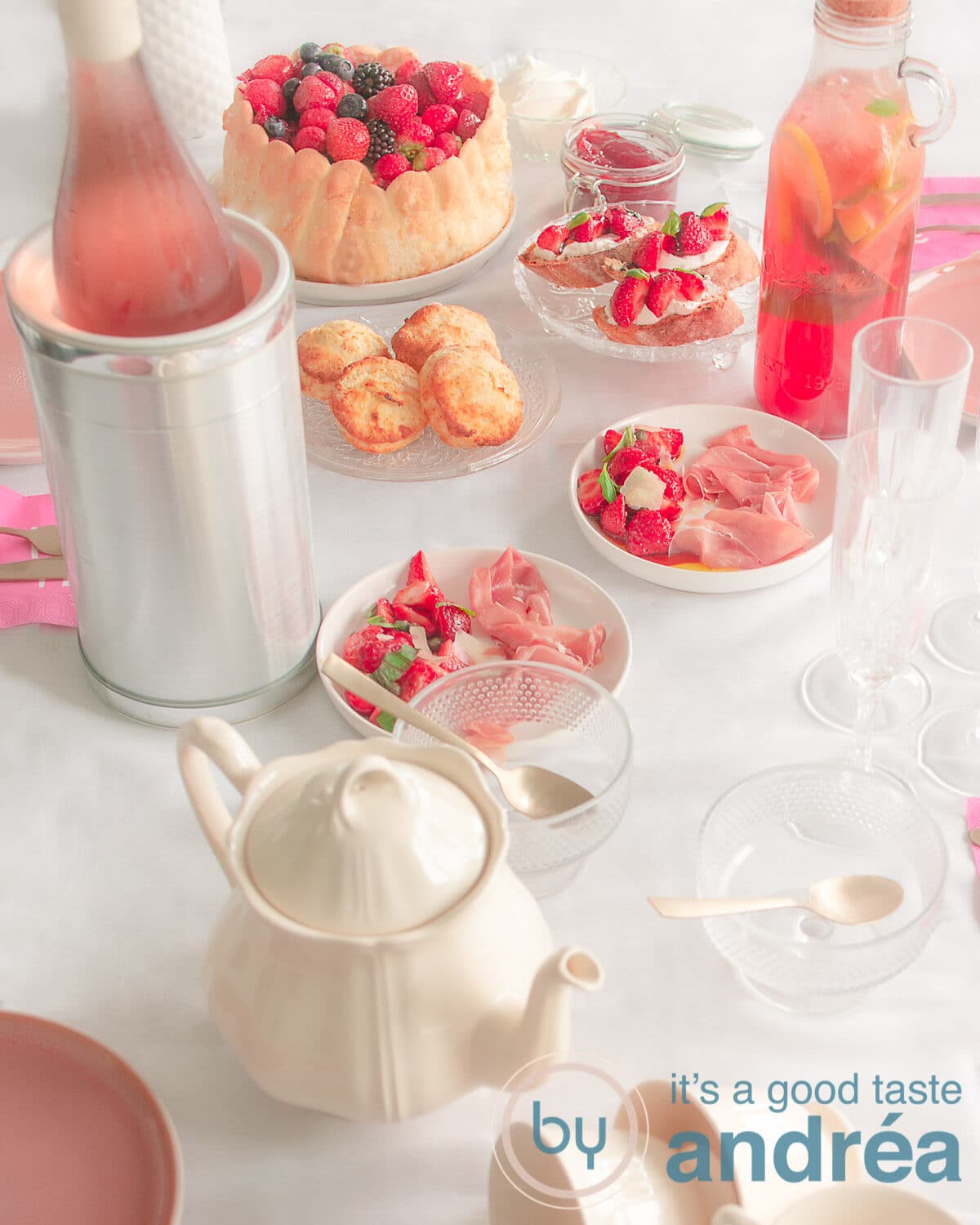 Time table
A few weeks for the start of the high tea
Prepare the strawberry jam and pour it into a clean, sterilized jar. The jam can be stored up to one year at room temperature when stored in clean sterile jars.
1 week before the high tea
1 day before your high tea
Prepare the strawberry cream and jelly for your Charlotte with summer fruits. Store them in the refrigerator. You can also bake your ladyfingers. Wrap them in plastic and store them at room temperature.
In the morning
Prepare the strawberry lemonade. Store in the refrigerator until use.
Grill the bruschetta on both sides. Store in a paper bag at room temperature until use.
Wash the strawberries you're going to need today and store them in the refrigerator.
2 hours before the start
Prepare the scones dough, but don't bake them yet. Store on a baking tray in the refrigerator until you're going to bake them.
Make whipped cream to serve with the scones. Store in the refrigerator until use.
1 hour in advance
Half an hour before the start
Preheat the oven to 465 degrees Fahrenheit / 240 degrees Celsius so you can bake the scones in the oven.
Latest preps
Dust the Charlotte with confectioners sugar.
Smear the bruschetta wit mascarpone. Hull the strawberries and quarter them. Sprinkle balsamic cream on top and garnish with basil strips.
Pour the strawberry lemonade in a jar and fill with ice cubes, lemon and fresh strawberries.
Take the ice bowls. Hull the strawberries and quarter them. But them in the bottom of the bowls. Remove the ice cream 15 minutes before use from the fridge (that way it's easier to scoop the ice cream).
Spoon the marinated strawberries onto a plate and add some Parma ham. Garnish with basil.