Apple pie in a jar?? Bring it on, I'll eat them all (especially when the apples are still a bit warm). This is an easy apple recipe with a cookie bottom, vanilla whipped cream, and caramelized apples. And you will definitely love this recipe!
A dessert with apple and this time I serve you: apple pie in a jar. A delicious dessert with layers of baked apple with cinnamon, vanilla whipped cream with a crumbled biscuit base.
And quickly ready because this easy dessert is on the table in 15 minutes!
Apple pie in a jar is an easy dessert where you blend all the delicious ingredients from an apple pie together in a jar.
Desserts and baking with apples
Without a doubt, my most favorite fruit on this blog for baking or making desserts is the apple.
From a warm apple pie granola breakfast, creamy apple pie ice cream, skinny apple turnovers or Grandma's Dutch apple pie, there is a lot of choice.
Recipes with apples can be made at any time of the day and I process them in any form. Even at dinner. Fruit with which you can vary endlessly.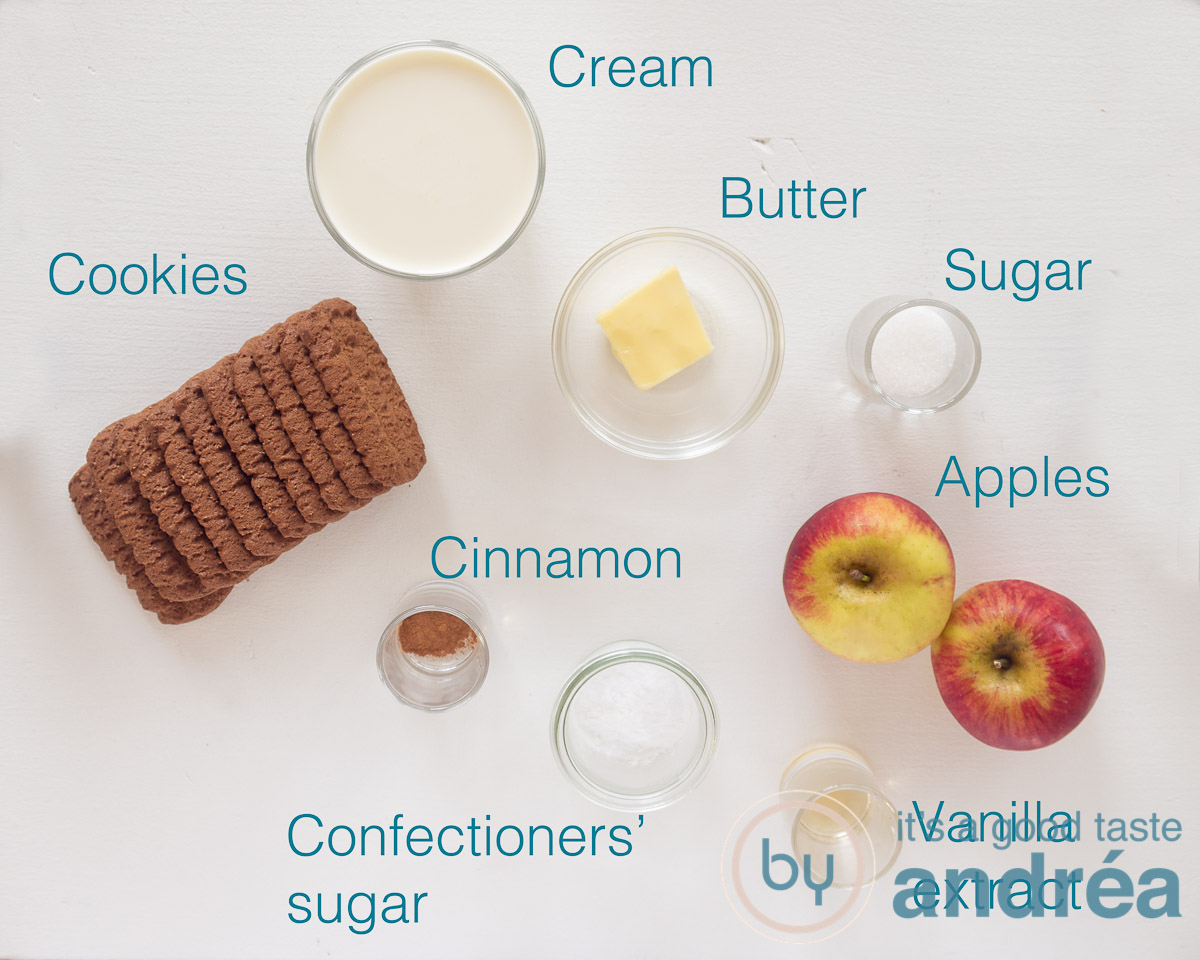 Cookies - Cover the bottom of the glass with crumbled cookies. You can of course bake delicious cookies (such as these German rock cookies that go well with this) or you can use ready-made cookies, like Graham cookies.
Apples - Any firm apple is suitable for this recipe. I used Elstar apples in this recipe, but Jonagold or Pink Lady are also great choices. When you opt for Granny Smith, the dessert will be a bit fresher.
🔪 Preparation
Step 1 - Prepare the apples
Peel the apples and cut them into quarters. Remove the core and cut the apple parts into slices. Sprinkle the slices with sugar.
Then sprinkle them with cinnamon.
Step 2 - Caramelize the apples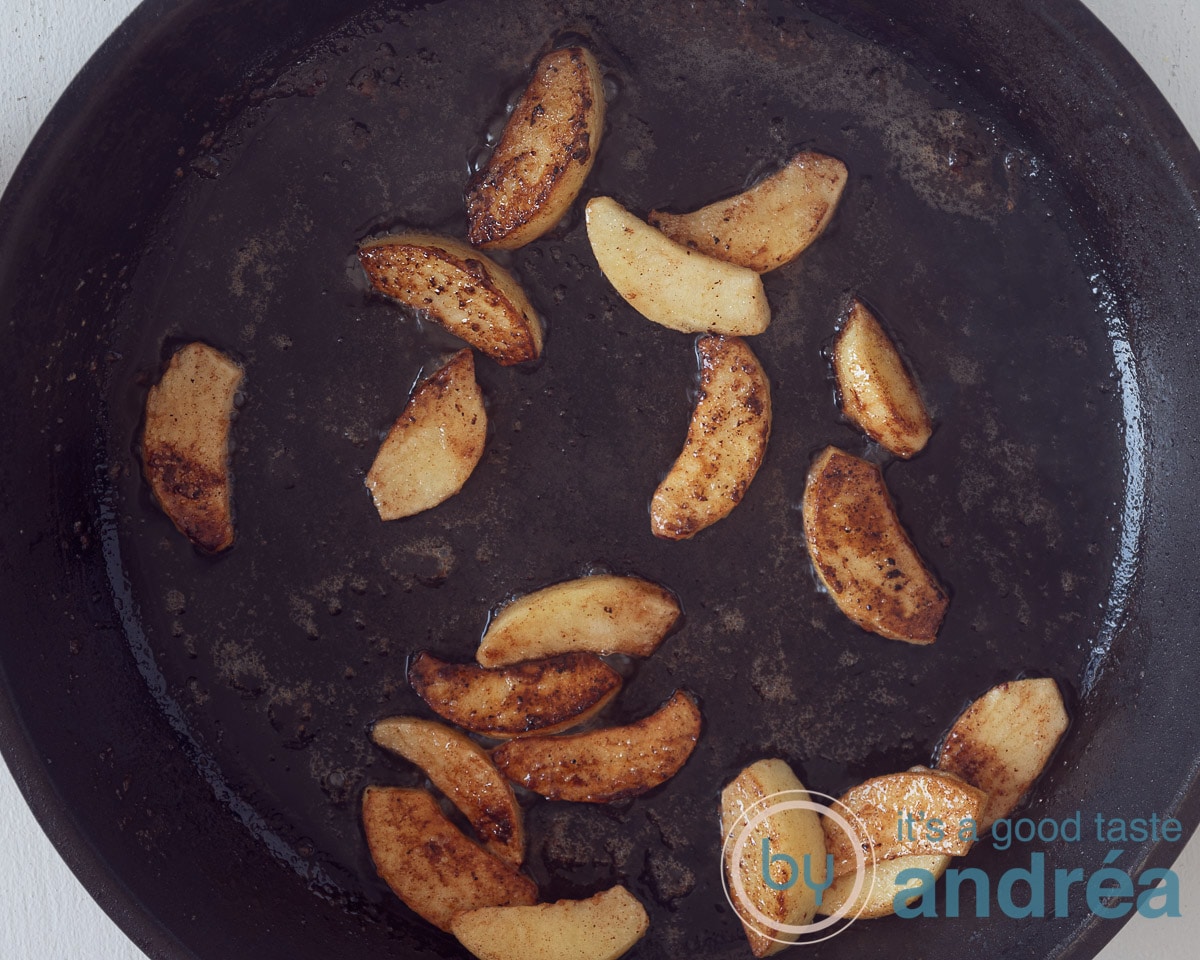 Melt the butter in the skillet and place the sugar-coated apple slices in the pan. Bake for three minutes and then flip with a spatula. Bake for another three minutes. Place on a plate and let cool (the latter is not necessarily necessary. You can serve them warm, but the temperature will make the whipped cream less firm).
Also beat the cream with the vanilla extract and the confectioners' sugar until stiff, about four minutes on high speed.
Step 3 - Fill the jar with the first layers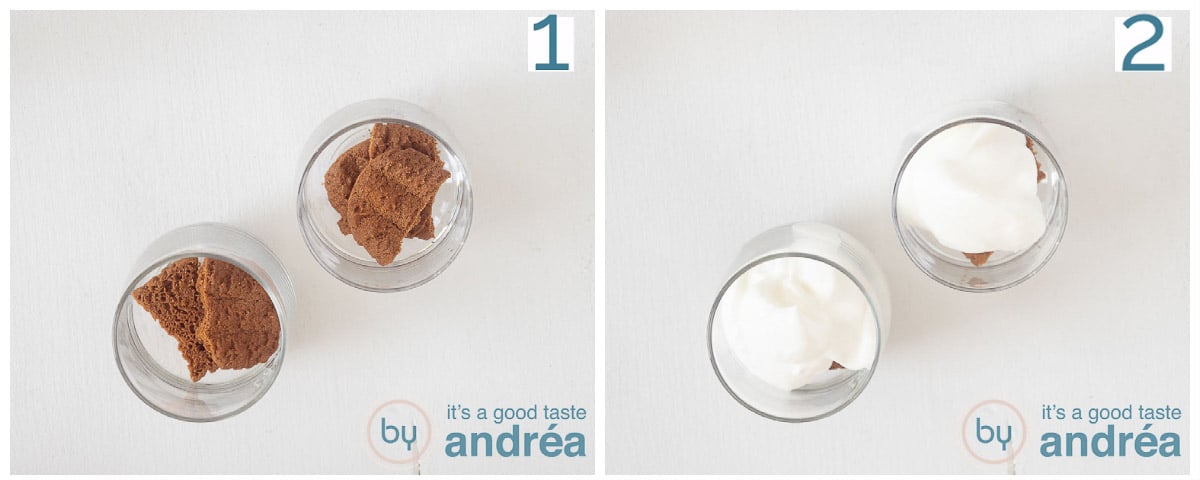 Divide half of the cookies in the bottom of the glasses.
Spoon three tablespoons of whipped cream on top.
Step 4 - Add the remaining ingredients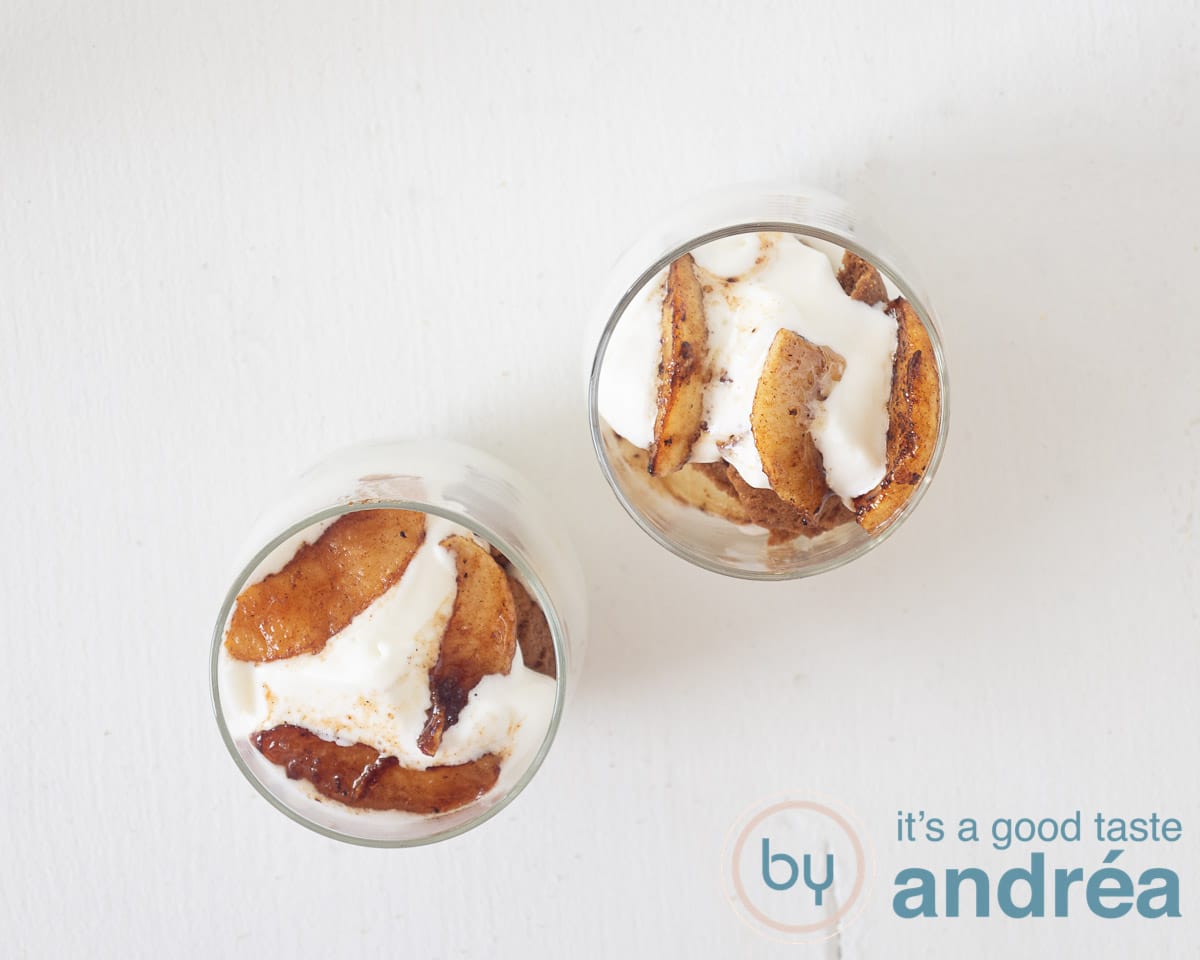 Place three or four baked apples on top. Then make a second layer: cookies, whipped cream and cover with the rest of the caramelized apples. TIP: I sprinkle some additional cinnamon on the apple pie in a jar. Serve right away!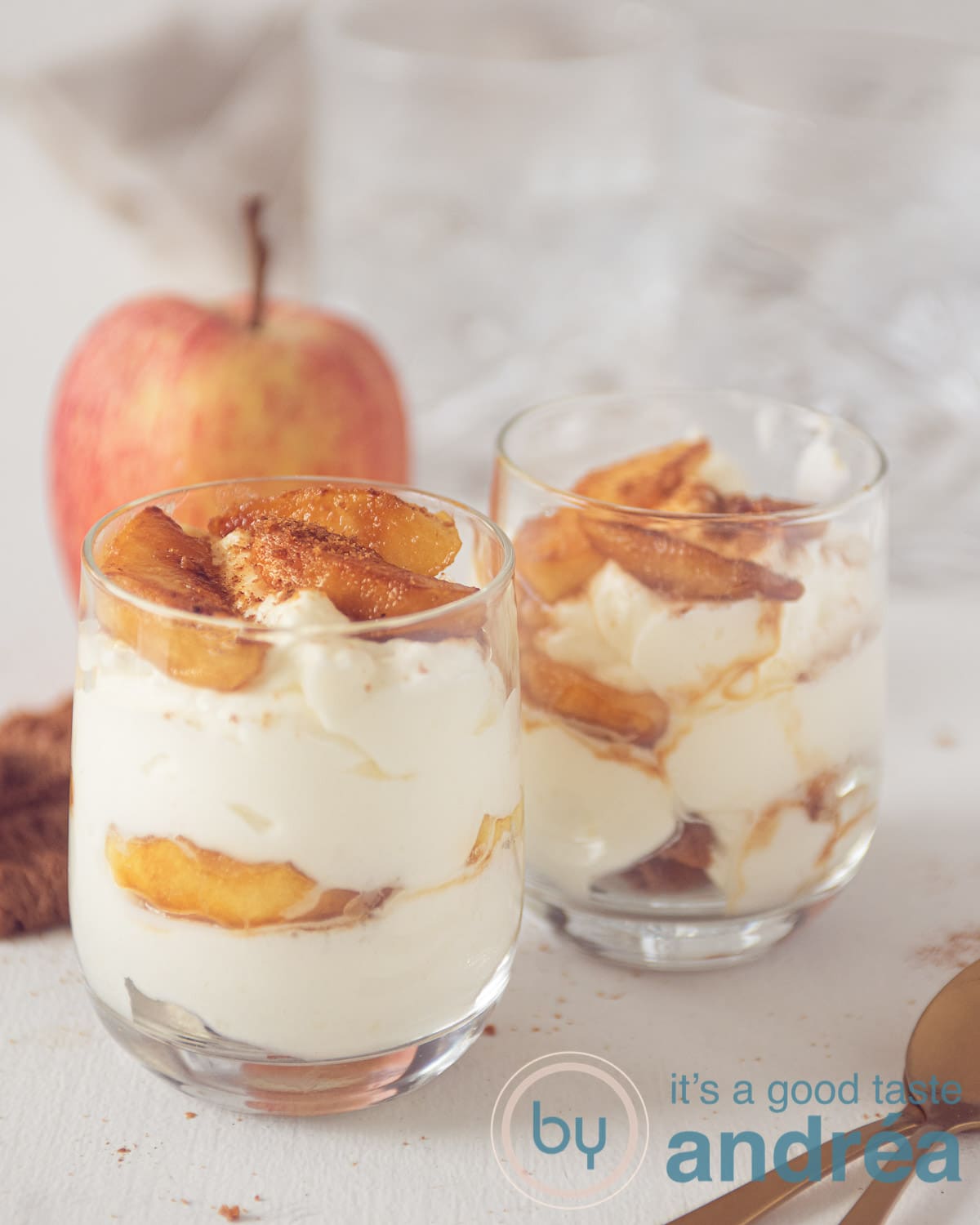 Did you make this recipe? Tag #byandreajanssen via Instagram. I enjoy seeing what your creation looks like. Video recipes can be found on my YouTube channel. And don't forget to save the recipes on Pinterest so you can easily find them next time!
SUBSCRIBE for more videos of By Andrea Janssen:
https://www.youtube.com/c/ByAndréaJanssen
Print
Save
Saved!
Facebook
Pinterest
Apple pie in a jar?? Bring it on, I'll eat them all (especially when the apples are still a bit warm). This is an easy apple recipe with a cookie bottom, vanilla whipped cream, and caramelized apples. And you will definitely love this recipe!
Ingredients
apples
2

apples

Elstar, Jona Gold, Granny smith

1

tablespoon

butter

unsalted

¼

teaspoon

cinnamon

ground

1

tablespoon

sugar
Cookies
12

cookies

like graham crackers
Vanilla Whipped Cream
250

ml

cream

1

teaspoon

vanilla extract

2

tablespoons

confectioners' sugar
Ingredients you need per step are listed below the step in Italic
Instructions
Apples
Melt some butter in a frying pan.

Cut the apple in quarters, take out the core and cut the parts into slices.

Sprinkle with sugar and cinnamon and fry on both sides in the pan (about 3 minute) until the sugar is slightly caramelized
Vanilla Whipped Cream
Add the whipping cream, vanilla extract, and powdered sugar to a bowl and whisk until the cream is stiff.
Apple pie in a jar
Crumble one and a half cookie at the bottom of the jar.

Scoop 2 tablespoons of cream on top and finish with three apple slices.

Repeat this one more time and fill all the jars
Notes
1. - Apples.
Use Jonagold or Elstar in this recipe.
If you want a slightly fresher dessert, you can also choose Granny Smith.
2. - Cookies You can use any brittle biscuit for this recipe. Great choices are gingersnaps, gingerbread cookies or Graham crackers.
3. - Also tasty
Use pears and gingerbread spices instead of apple and cinnamon for a delicious fall and winter dessert.
Instead of whipped cream, you can also opt for a scoop of vanilla ice cream.
4. - Storage
Preferably make this dessert fresh.
The cookies quickly become soft when combined with the whipped cream.
(But if you have some left over, keep it in the fridge for up to two days. Throwing it away is not necessary and the combination of flavors is still delicious!)
5.- Nutritional value
The nutritional value of this dessert is shown per person.
Indication Nutritional Value (Per Person / Portion):
Calories:
469
kcal
Carbohydrates:
41
g
Protein:
3
g
Fat:
33
g
Saturated Fat:
18
g
Cholesterol:
99
mg
Sodium:
207
mg
Fiber:
3
g
Sugar:
21
g
Vitamin A:
1082
IU
Vitamin C:
5
mg
Iron:
1
mg
Share by Email